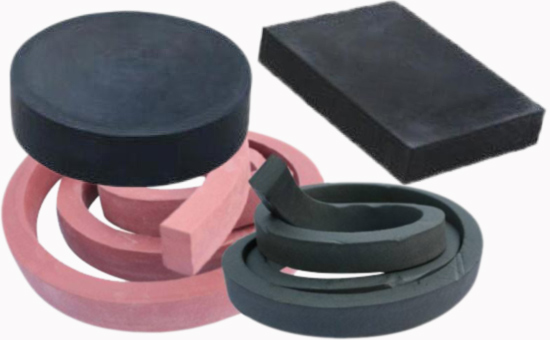 Natural rubber has high mechanical strength and good elasticity. It is obvious that the price of natural rubber is high and the price is easy to fluctuate. Many rubber products manufacturers will fill a lot of rubber fillers in natural rubber products to alleviate the cost of high-priced natural tape. Pressure, then increase the amount of rubber filler can really reduce the cost of raw materials? Is there only one way to reduce the cost of natural rubber products?
1. Rubber filler can reduce the cost of natural rubber products
According to the reinforcing performance, the rubber filler can be divided into reinforcing filler and non-reinforcing filler. Among them, calcium carbonate is a typical non-reinforcing rubber filler, which can increase the volume of the product in the natural rubber product and achieve the purpose of reducing cost; The market price of calcium is much lower than that of natural rubber products, so adding rubber filler to natural rubber products can actually reduce the cost of raw materials.
2. Excessive rubber filler will affect the mechanical strength of natural rubber products
Taking calcium carbonate as an example, after adding a certain proportion of calcium carbonate to the natural rubber, the surface smoothness and mechanical strength of the rubber product will be improved; but if the amount of calcium carbonate is too large, the rubber cannot be uniformly dispersed, the rubber The increase of the filler also leads to a decrease in the force between the macromolecular chains inside the rubber compound, which directly leads to a decrease in the mechanical strength of the natural rubber product. Therefore, natural rubber products manufacturers generally choose rubber fillers that are well dispersed and easy to disperse in natural rubber, such as surface treated nano calcium carbonate, and reasonable control of dosage.
3. Other ways to reduce the cost of natural rubber products
Increasing the amount of rubber filler in natural rubber products can reduce the production cost. This is true. However, if the amount of rubber filler is increased without any restriction in order to reduce the cost, it is to take the vitality of the enterprise to carry out a game that must be defeated. Rubber products manufacturers also need to find other ways to reduce costs. At present, rubber products manufacturers can choose to place natural rubber in molded rubber products, and use high-fineness and high-glued latex reclaimed rubber in extruded natural rubber products to reduce production costs.
In actual production, whether it is to reduce the production cost of natural rubber products by increasing the amount of rubber fillers, or to find alternative materials for natural rubber, rubber products manufacturers are required to take the quality of rubber products as the most important premise, and appropriate under the premise of ensuring quality. Increasing the use of rubber fillers or natural rubber instead of raw materials lays a good foundation for long-term production and development of enterprises.