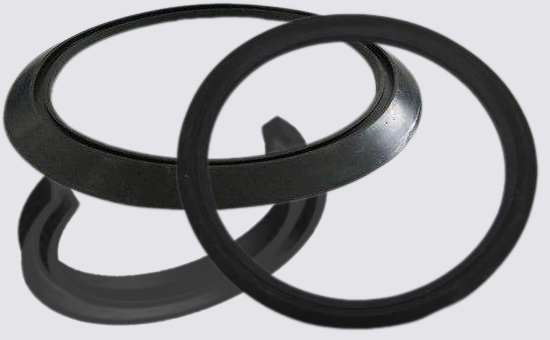 Butyl reclaimed rubber has excellent air tightness, water tightness and chemical stability, can directly replace the original butyl rubber IIR production of various kinds of rubber seals, to reduce quality assurance, reduce costs. The technical performance of butyl recycled rubber and butyl rubber is different from various rubber indicators. There are many problems to be paid attention to when reducing the production cost of rubber seals, mainly in the addition ratio, the choice of compounding agents and production conditions.
1. Features of butyl recycled rubber seal
The butyl recycled rubber retains the basic performance characteristics of butyl rubber. The rubber seals produced by replacing butyl rubber have good air tightness, heat resistance, sun resistance, ozone resistance, and electrical insulation. Swelling or corrosion, it has good resistance to polar solvents such as alcohols, ketones, esters, etc., so it can be widely used in various chemical resistant or vacuum equipment. Keep good sealing effect for a long time.
2. Addition ratio of butyl recycled rubber in butyl seal
In the actual application process, the different requirements of butyl rubber seals in different applications and the difference in the manufacturer's cost budget, so the proportion of butyl recycled rubber in the seals is very different, and rubber product manufacturers need to be reasonable Adjust the amount of butyl recycled rubber 1JLYY1202. Some common butyl seals can even use butyl recycled rubber completely, which significantly reduces the cost of raw materials and energy consumption.
3. Butyl seal formula carefully choose rubber softening oil
Butyl recycled rubber retains the basic performance characteristics of butyl rubber, but also inherits its shortcomings. Although it has greatly improved the vulcanization speed and compatibility with other rubbers, it is most suitable for the production of rubber O-rings. Do not use petroleum solvents, kerosene and aromatic oils at the same time.
4. Reasonably adjust the production process conditions of butyl seals
Compared with butyl raw rubber, butyl recycled rubber has better fluidity, plasticity and vulcanization performance. Therefore, when using butyl recycled rubber to replace butyl raw rubber in whole or in part to produce rubber seals, rubber product manufacturers need to properly adjust the butyl seals. Processing process conditions, especially the mixing process and vulcanization process, appropriately adjust the dingjizsj mixing temperature, mixing time and vulcanization temperature, vulcanization pressure, vulcanization time, etc. during the vulcanization; for example, vulcanization of butyl recycled rubber The speed is faster than the original butyl rubber, and the curing time can be shortened.
When using butyl recycled rubber instead of butyl original rubber to produce rubber seals, rubber product manufacturers must pay attention to the above issues, so as to reduce the cost of more raw materials while ensuring the quality of butyl seals, while further reducing costs. Optimize product quality.