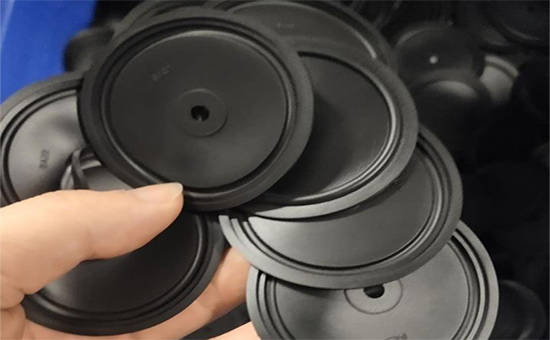 Customer Name: Hengshui a rubber product processing plant
Select product: Hongyun Class A ultra-fine tire reclaimed rubber
Use occasion: rubber diaphragm
Case background: Hengshui a rubber product processing plant is located in Zaoqiang County of Hengshui, which belongs to a small processing factory. Its main production and operation scope is all kinds of rubber miscellaneous pieces. Compared with some large-scale local product factories, the manufacturer has a big gap between brand and capital. It can only open up the market by improving the cost performance of the products. Choosing the right recycled rubber to replace the raw rubber to produce rubber miscellaneous pieces becomes the main means to reduce costs. 1JLYY830.
Reasons for selection: Rubber diaphragms are widely used in manufacturing, machinery, vehicles, electronics and other industries. Among them, ordinary rubber diaphragms do not require high mechanical strength of the rubber compound. In theory, reclaimed rubber can be used in large quantities. In the actual application process, each device requires smooth surface of the diaphragm to improve sensitivity. The ultra-fine tire reclaimed rubber is a fine ion reclaimed rubber with a fineness of up to 80 mesh and no impurities. It can ensure the black surface of the product during use. , just to meet the basic needs of the ordinary rubber diaphragm of Zaoqiang customers.
Compared with the ultra-fine top reclaimed rubber and small top reclaimed rubber in the series of reclaimed rubber products, this product has a slightly lower mechanical strength than the top reclaimed rubber, but it is more cost-effective. Jujuqiang customers used the small-size super-fine reclaimed rubber and the super-grade reclaimed rubber to compare the A-grade super-fine reclaimed rubber to meet the demand and decided to use the super-grade reclaimed rubber for a long time.
Encounter problems: Some rubber products produced and sold by Zaoqiang customers need to be typed on some products, and the rubber diaphragm produced by using A-grade super-fine reclaimed rubber is not particularly effective in spraying the writing, although it does not affect normal sales and use. However, the customer is strict with the quality of the product and hopes to solve this problem. Under the advice of the Fortune engineers, Zaoqiang customers decided to replace the rubber diaphragms that need to be painted with the same grade of Hongyun Class A ultra-fine non-migrating tire reclaimed rubber, and finally achieved good results.
Case summary: When using recycled rubber to reduce the production cost of rubber products, rubber manufacturers must choose the appropriate reclaimed rubber according to actual needs. The "suitable" here includes the tensile strength, elongation, hardness, fineness of reclaimed rubber. Mobility, etc.; when purchasing reclaimed rubber, choose a regular reclaimed rubber manufacturer. This is because regular manufacturers generally have their own engineers and can provide technical support at any time, aiming at the characteristics of their own reclaimed rubber and the actual needs of rubber products. A more effective solution.