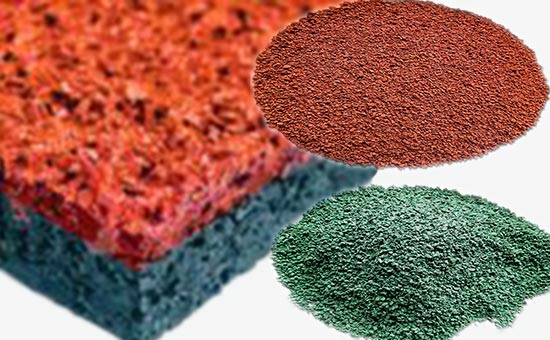 Case Background: Since 2014, toxic runway incidents have occurred frequently, and "odor odors" and "odor odor playgrounds" have appeared in Beijing, Suzhou, Wuxi, Nanjing, Changzhou, Shenzhen, Shanghai, and Hebei, seriously affecting teachers and students. Health, after the CCTV exposure in 2016, the country began cracking down on bad construction companies with poisonous racetracks and severely ran in safety issues in plastic runways. Forced by environmental pressure plastic track manufacturer began to replace the runway processing materials.
Customer introduction: A Hebei customer is a contractor who undertakes the construction of plastic runways for playgrounds, basketball courts, football fields, and entertainment plazas in various schools. It builds a safe and healthy plastic track in good faith, and the plastic runway for the plant construction No bad records occurred. The customer and Hongyun Reclaimed Rubber Factory are long-term cooperative partnerships; Hongyun Reclaimed Rubber Factory provides long-term large-scale supply of Hongyun EPDM particles for the laying of various plastic runways, although the cost is high. , But with the closure of a poor track manufacturer's family, his family is getting more and more prosperous and business is getting more and more. The reason is obvious. It is not a low price that has a market. Product quality is the most important thing.
Advantages of the product: Hongyun 10 mesh red-green EPDM rubber particles are produced from high-quality EPDM rubber products as a raw material. After being finely ground through many processes, the color is bright and the color is convenient. The plastic runway produced has good elasticity and strong wear resistance, and the user is more comfortable and safe to use. The important thing is that this product is non-toxic, odorless, corrosion-resistant and anti-aging. It is an ideal raw material for laying various plastic runways.
The plastic runway covered with EPDM particles is bright, corrosion-resistant and anti-aging. It can maintain good wear resistance under long-term sun exposure, and it is not prone to discoloration and discoloration. Even if it is under long-term force, it will have resilience. Yes, to keep the runway surface neat and beautiful; the use of Hongyun EPDM rubber to run the plastic runway without irritating odors, will not affect human health. Under the strict investigation, the relevant standards are fully met, which shows that the quality is good. Therefore, more plastic runway laying customers follow and bring greater economic benefits.
Lessons learned: The use of low-cost rubber granules to lay plastic runways, although no problems on the surface or in the short term, but it has a high "security risk", not only will damage people's health, but also make the construction unit lose credibility; High quality EPDM pellets are slightly higher in price, but its anti-aging, high and low temperature performance, long plastic runway, long life, good use effect, so that all types of people can rest assured that in this color runway to exercise, health and fun Breath fresh air. The plastic runway that truly meets the standards of green health is more liked by users. It will only be able to continue to develop long-term, conscientious buying and selling services regardless of the time and place.